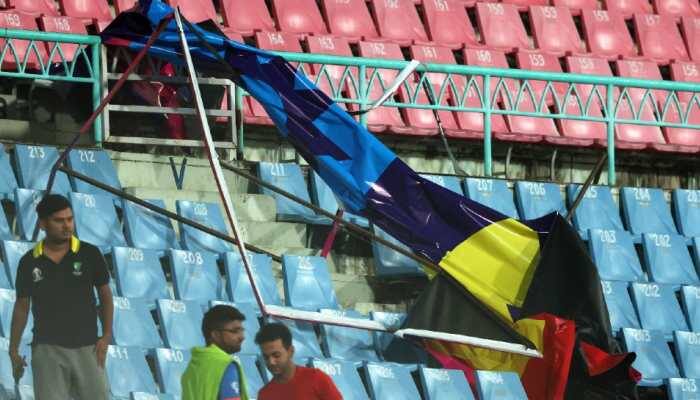 Hoardings fall into the stands in Lucknow during Australia vs Sri Lanka World Cup 2023 match. (Source: X)
The spectators at the Ekana Stadium in Lucknow had a lucky escape during match no. 14 of the ICC Cricket World Cup 2023 between Australia and Sri Lanka on Monday. Heavy winds in Lucknow on Monday evening during the match resulted in hoardings at the Ekana Stadium falling off and landing in the stands but luckily no spectator was injured.
Australia vs Sri Lanka clash faced a disruption due to inclement weather with rain and strong winds sweeping through the arena in Lucknow on Monday. Sri Lanka, having been put into bat first after captain Kusal Mendis won the toss, struggled to hold their ground, collapsing to 209 runs even after a promising commencement to their innings. Intensifying weather conditions caused havoc in Ekana Stadium, resulting in hoardings being uprooted and thrust among the audience. Fortuitously, there were no injuries among the spectators, and the ground personnel promptly intervened to prevent potential mishaps.
The audience was swiftly relocated to safety, and the maintenance crew efficiently managed the cleanup to prepare the field for the game's second half. The tempest also wreaked havoc on several World Cup promotional materials, leaving them disheveled and ripped, but these were expeditiously dealt with by the on-site teams.
WATCH hoardings falling off in Lucknow during Australia vs Sri Lanka match HERE…
Due to strong winds, hoardings are falling all over Lucknow's Ekana Stadium.
Spectators running for safety.#CWC23 #AUSvSL #WorldCup2023 #Lucknow @BCCI @ICC pls remove these banners before the next match. pic.twitter.com/xxoqK775jK
— Ali Taabish Nomani (@atnomani) October 16, 2023
Meanwhile, Australia finally managed to post a win after back-to-back losses in World Cup 2023, defeating Sri Lanka by five wickets and moved out of the bottom of the table. Chasing 210 to win, Australia achieved the target with almost 15 overs to spare.
"Yeah, I mean – after the first two games there's definitely a flat feeling in the change rooms. We all know that I think you could probably go from 1 to 11 and say we all could do our roles a little bit better, particularly those first two games. But we know, as Boss said the other day, we get backed into a corner and guys step up and we get on a roll, then anything can happen. It's a World Cup, so get on a roll. Obviously, really big game against Pakistan in Bangalore, and if we can put it all together and play a good game there, you go 2 and 2 and the feeling's much better," Player of the Match Adam Zampa said after the match.