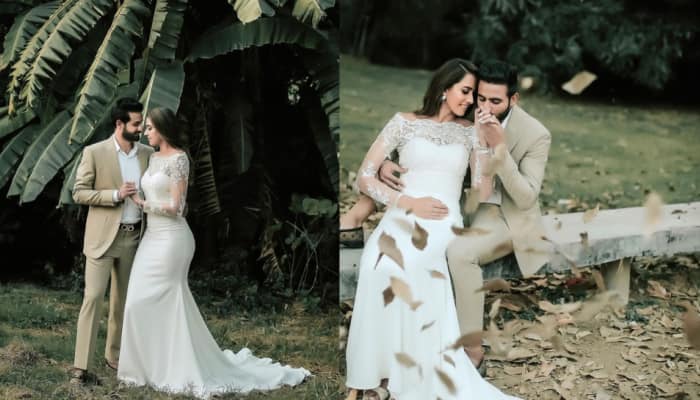 Karman Kaur Thandi has married Gurjant Singh. (Image: Instagram)
India's top women's tennis player Karman Kaur Thandi has married national hockey player Gurjan Singh. The couple shared photos from the wedding photoshoot on Thursday with captions: 'She said yes' and 'I said yes'. Thandi is one of India's highest-ranked tennis players while Gurjant is an Olympic medallist. He was a member of the Indian team which ended the wait of 41 year for a hockey medal in Olympics. 
Check photos from their marriage ceremony below:
Know more about Karman here:
Karman Kaur Thandi, the tenacious Indian tennis sensation born on June 16, 1998, in Delhi, epitomizes resilience in the face of adversity. Despite grappling with injury setbacks, she stands as one of India's most promising tennis stars, revered for her unwavering determination and undeniable talent on the court. Karman's journey in tennis has been marked by challenges, notably a debilitating stress fracture in her lower back in 2019, sidelining her from the game for an extended period. Yet, her spirit remains unbroken, fueled by an unyielding desire to make a mark in the sport.
To hone her skills, Karman sought training overseas, embarking on transformative stints in Canada, Spain, and Italy, fortifying her game with international exposure and diverse coaching methodologies.
Her illustrious career boasts significant milestones, including representing India at prestigious events like the 2018 Asian Games in Jakarta, where she showcased her prowess by advancing to the second round of the singles event. Moreover, her presence has been felt on the global stage, having competed in all four Grand Slam tournaments at the junior level, a testament to her versatility and potential.
Breaking barriers and setting records, Karman surged into the top 200 of the Women's Tennis Association (WTA) rankings in 2017, etching her name among the elite few Indian women achievers in the sport.
Her tennis odyssey commenced in 2014 at the ITF Women's Circuit tournament in her hometown of Delhi, marking the genesis of a career destined for greatness. Under the tutelage of coach Aditya Sachdeva, Karman's passion for tennis ignited at the tender age of eight, laying the foundation for her meteoric rise in the tennis realm.
Karman Kaur Thandi, a beacon of hope for Indian tennis, embodies resilience, dedication, and an unwavering commitment to her craft, poised to carve an indelible legacy on the global tennis stage.
Her husband Gurjant Singh was born on December 26, 1995, in Amritsar, Punjab, Gurjant has emerged as a formidable forward in Indian hockey. His journey in the sport has been marked by significant achievements. Gurjant gained widespread recognition during the Junior Hockey World Cup in 2016, where he played a pivotal role in securing India's victory. His stellar performance in the tournament, including crucial goals in crucial matches, solidified his reputation as a promising talent in Indian hockey. Following his success at the junior level, Gurjant transitioned to the senior national team, making his mark in international competitions. He has represented India in various prestigious tournaments, contributing with his skills, speed, and strategic gameplay