Five sports, including cricket and flag football, will be included at the 2028 Los Angeles Olympics after receiving the approval of the International Olympic Committee.
Lacrosse, squash and baseball-softball also received the green light at an official IOC meeting in Mumbai on Monday with only two delegates voting against the five new events.
Each host city, under IOC rules, can request the inclusion of several sports for their edition of the Games.
Please use Chrome browser for a more accessible video player
IOC president Thomas Bach confirms cricket has been approved for inclusion at the 2028 Olympic Games and is confident it will help grow the global popularity of the sport
Cricket has only appeared once at the Olympics, at the Paris Games in 1900 when Great Britain beat France by 158 runs a one-off final, but IOC president Thomas Bach said last week that the game's "growing popularity" made it an attractive proposition.
Bach said: "We are ready to welcome the world's best players of cricket to perform in the United States in 2028, while showcasing iconic American sports to the world.
"We see the growing popularity of cricket, particularly the T20 format.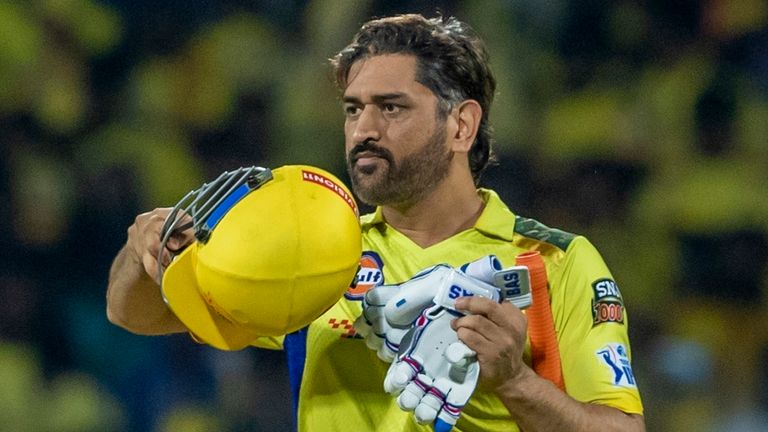 Image:
The IPL, with players like Chennai Super Kings' MS Dhoni, has triggered the rise of T20 cricket
"The Olympic Games will give cricket a global stage and the opportunity to grow beyond the traditional cricket countries and region.
"For the Olympic Movement, it's the opportunity to engage with fan and athlete communities to which so far we have very little or even no access."
'Olympics will accelerate rapid growth of women's cricket'
The Los Angeles Games proposal is for a six-team Twenty20 tournament for men and women.
Twitter
Due to your consent preferences, you're not able to view this.
Open Privacy Options
Please use Chrome browser for a more accessible video player
England cricketer Kate Cross welcomes the decision to include the sport at the Los Angeles Olympics in 2028, saying it will increase the global visibility of the game
England and Wales Cricket Board chief executive officer Richard Gould said: "It's fantastic that cricket will be included in the Olympics in 2028, putting it on one of the world's biggest sporting stages.
"This is a great opportunity to take cricket to new parts of the world, and to allow more people to develop a love for our sport.
"In particular I'm delighted that the Games will feature both men's and women's cricket, and have no doubt that featuring in the Olympics will accelerate the continuing and rapid growth of the women's game."
England fast bowler Kate Cross told Sky Sports: "When you become a cricketer, you never think you are going to become an Olympian. I think it will be great for the visibility of the game over in America, it seems to really be growing out there.
"It is giving the game a global audience. People in other countries, wherever they may be, seeing cricket on their televisions. That's where cricket needs to be – accessible and visible."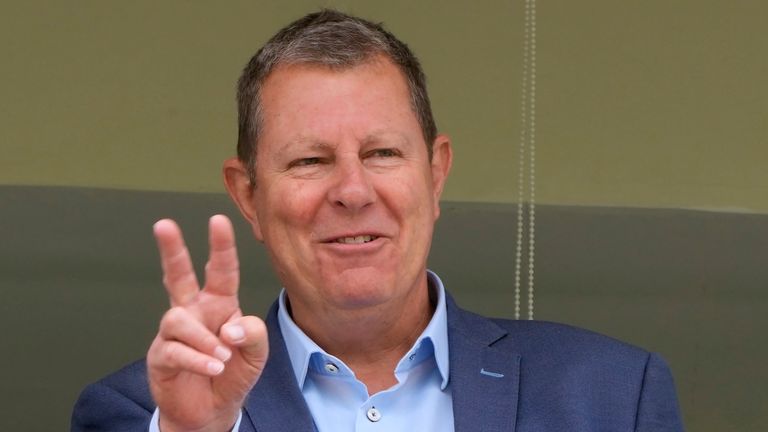 To have the opportunity to showcase our great sport at the LA28 Games and hopefully many Olympic Games to come will be great for players and fans alike. The innings has just begun, and we can't wait to see where this incredible journey leads.
Afghanistan's head coach Jonathan Trott said cricket's inclusion at the Olympic Games will be a positive addition.
"It will give the sport worldwide exposure and it's a really exciting time to go to the Olympics," Trott said speaking to Sky Sports.
"I'm sure it would be an honour for anybody who is able to participate and it will be a real learning curve for the sport and it's players.
"To start off having six teams might be a close enough number and then we'll see how it grows. Sometimes it's about getting the format right first."
Please use Chrome browser for a more accessible video player
International Cricket Council president Greg Barclay has welcomed the inclusion of the sport at the 2028 Olympic games in Los Angeles saying it will be a
Squash and flag football set for Olympic debuts
Squash and flag football, the latter a non-contact format of American football played by teams of five, are set for their Olympic debuts in 2028.
The World Squash Federation has made several failed attempts to have the sport included, with other sports including skateboarding, surfing, and breakdancing previously preferred.
Twitter
Due to your consent preferences, you're not able to view this.
Open Privacy Options
Baseball has featured in several previous Games, most recently in 2020, with softball, the women's counterpart, appearing at five editions.
Lacrosse has also been contested at five previous Games, with medals awarded in 1904 and 1908. In 1928, 1932 and 1948, it was held as a demonstration sport.
Lacrosse sixes, which features four, eight-minute quarters and is a variant of the established 10-a-side format, will take place in Los Angeles.
That version was included in last year's World Games in Alabama, with Great Britain's men's and women's teams both finishing fourth.
'Lacrosse sixes is exceptionally viewable'
England's Emma Oakley, who plays for Hawks Lacrosse Club in Richmond, west London, said: "Since the sixes game has been introduced everyone has got fully on board with it.
"It is such an exciting version of the sport, it condenses all of its best elements and it is exceptionally viewable for people who are new to lacrosse.
Twitter
Due to your consent preferences, you're not able to view this.
Open Privacy Options
"As a young girl when I started in the sport I always knew lacrosse had been in the Olympics but I never dreamed it would be back, and it is lovely to have that legacy from so long ago.
"I loved the sport from the moment I started and it is great to think that along with the Lionesses and the Red Roses, who have allowed girls to see women competing on a global stage, lacrosse can become another option."
British Lacrosse chairman Leslie Rance described Olympic inclusion as a "watershed moment" for the sport in the country, saying: "We know there is a lot of work to do over the coming years, firstly to qualify for the Games and then to ensure we are prepared to compete for medals.
"But I know that our team of coaches, support staff and players are ready for the exciting challenges which lie ahead."
'Olympics will inspire millions to play flag football'
On the addition of flag football – in which players need to pull the flag off the person with the ball instead of tackling – NFL commissioner Roger Goodell said: "Congratulations to the International Federation of American Football on this landmark achievement for flag football and the global community that loves and plays our game.
Twitter
Due to your consent preferences, you're not able to view this.
Open Privacy Options
"It's a tremendous honour for any athlete to represent their country at the Olympics. We have no doubt that this decision will inspire millions of young people around the world to play this game in the years ahead.
"The NFL is committed to working together to strengthen flag football's place in the Olympic movement long term."
Pierre Trochet, president of the International Federation of American Football, said: "This is a huge moment for our sport and our global American football community. We are grateful to everyone who has played a part in what has been a truly collective journey .
"We are convinced that flag football will offer an exciting new dimension to the Games – uniting them, for the first time in history, with America's number one sport in its youngest, most accessible and inclusive format.
"It is already spearheading extraordinary growth, particularly among youth audiences, women and girls and in new countries worldwide. We have no doubt that inclusion in the Olympic Games will further accelerate this dynamic."