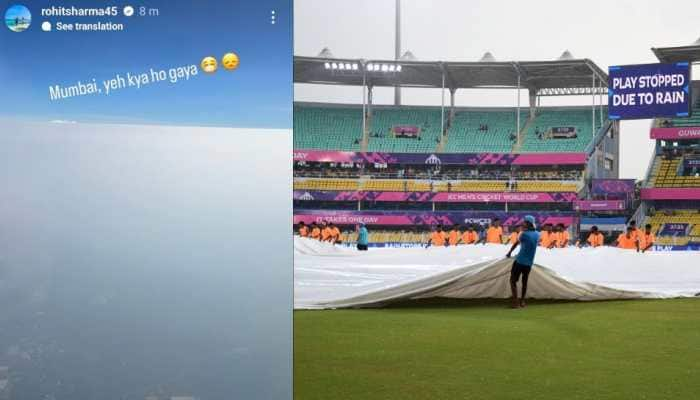 Mumbai will host World Cup 2023 match no. 33 between India and Sri Lanka. (Source: X)
Rohit Sharma's Team India are getting ready to take on Sri Lanka in match no. 33 of the ICC Cricket World Cup 2023 at the Wankhede Stadium in Mumbai on Thursday. The capital of Maharashtra has been battling poor air quality for a few weeks, a fact that has even prompted the Board of Control for Cricket in India (BCCI) to take notice.
The BCCI secretary Jay Shah on Wednesday announced that customary fireworks after the ICC Cricket World Cup 2023 matches will not be on display at the Wankhede Stadium in Mumbai and Arun Jaitley Stadium in New Delhi due to poor air quality in these cities.
"BCCI is sensitive to environmental concerns. I took up the matter formally with the ICC and there won't be any fireworks display in Mumbai, which can add to the pollution level. The Board is committed to combating environmental issues and will always place the interest of our fans and stakeholders at the forefront," Jay Shah said.
Team India captain Rohit Sharma also raised concerns over the poor quality in Mumbai on his Instagram account as well as during the pre-match press conference in Mumbai. The AQI in Mumbai on Thursday morning was at 158 – at 'very unhealthy' level.
"I mean, in an ideal world, you don't want a situation like this, but I'm pretty sure the concerned people are taking the necessary steps to avoid these kind of situation. It's not ideal, everyone knows that. But obviously, looking at our future generation, your kids, my kids, obviously, it's quite important that they get to live without any fear. So, yeah, every time I get to speak outside of cricket, if we are not discussing cricket, I always talk about this, that you know we have to look after our future generation," Rohit Sharma said about the Mumbai air quality on Wednesday.
Rohit Sharma's Instagram story. pic.twitter.com/jbE786ogEJ
— Mufaddal Vohra (@mufaddal_vohra) October 31, 2023
Meanwhile, it's going to be another hot and humid day for the match in Mumbai on Thursday. The temperature will be around 37 degrees Celsius when the toss takes place around 130pm IST. The humidity will be around 33 per cent.
By evening the temperature should drop to around 30 degrees but the humidity will be rising to 53 per cent. Although there will be some cloud cover over the ground, there is unlikely to be any chance of rain interrupting the match.
But with the poor air quality, conditions will definitely not be easy for the cricketers in the middle at the Wankhede Stadium.