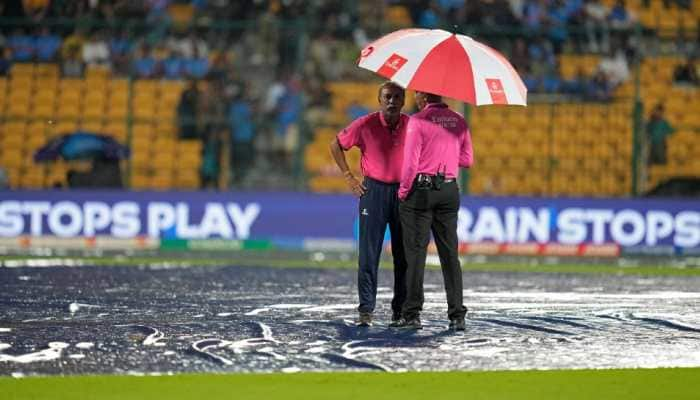 Rain is predicted for India vs South Africa ICC Cricket World Cup 2023 match in Kolkata on Sunday. (Photo: AP)
The ICC Cricket World Cup 2023 witnessed the first match getting badly curtailed by rain as Pakistan defeated New Zealand via DLS Method at the M. Chinnaswamy Stadium in Bengaluru on Saturday. Incessant rain in Bengaluru meant only around 25 overs of play was possible in Pakistan's chase and fans will be hoping that similar fate doesn't befall Team India's clash against South Africa at the Eden Gardens in Kolkata on Sunday.
The weather prediction for Kolkata for Sunday afternoon appears gloomy at the moment. Around 130pm when captains Rohit Sharma and Temba Bavuma head out for the toss, there will be around 99 per cent cloud cover over the Eden Gardens with humidity at 54 per cent and temperature of around 33 degrees Celsius. There is also about 5 per cent chance of rain according to the weather department.
By evening, the temperature will come down to about 26 degrees with humidity levels rising to 67 per cent. However, the cloud cover will reduce to around 46 per cent by evening. There is also possibility of dew later in the evening in Kolkata.
Check Kolkata weather prediction for India vs South Africa ICC Cricket World Cup 2023 match HERE…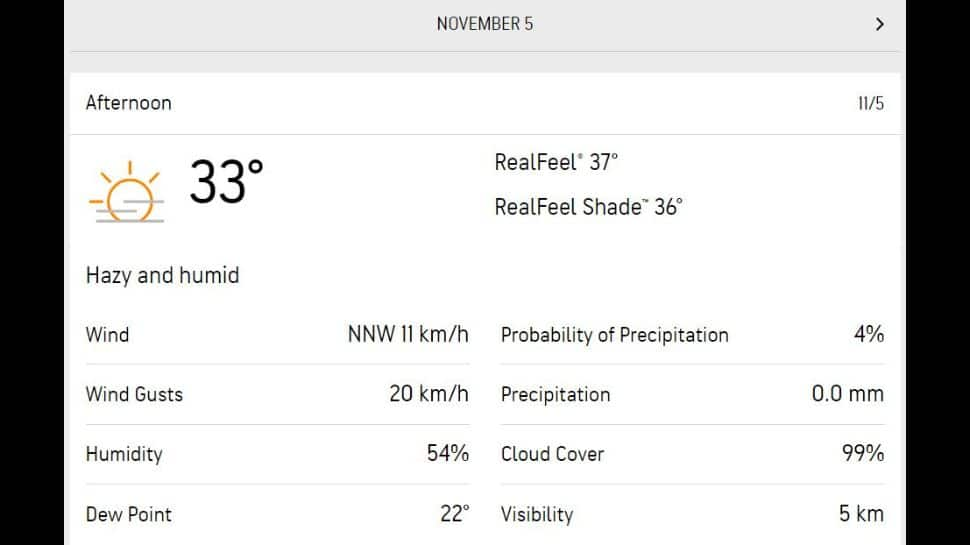 The Air Quality Index (AQI) is also at 'very unhealthy' level even in Kolkata at around 247 which will make it hard for the players on Sunday as well. The pitch at Eden Gardens hasn't been helpful to any one particular type of bowling. If fast bowlers have picked up wickets at a better strike-rate than the spinners, spinners have superior economy rate in the ICC World Cup 2023 so far.
"Once we've had a look at the wicket, we'll obviously see what our team would look like. If possible, I'd like to play both our front-line spinners, but we'll see how that comes about. And then once we're in the game, again, we've got to assess the conditions, take note of the fact that what the average score is. But we believe that with the makeup of our team, we can get any score that we can," South African skipper Temba Bavuma said on the eve of the match in Kolkata.
"I think we are mindful of the fact that it won't be like Delhi, where it's a quick scoring ground. We might have to graft a lot more. You might have to hit a lot more balls on the ground. But all of that will happen tomorrow. We won't go in today with too many preconceived ideas," he added.