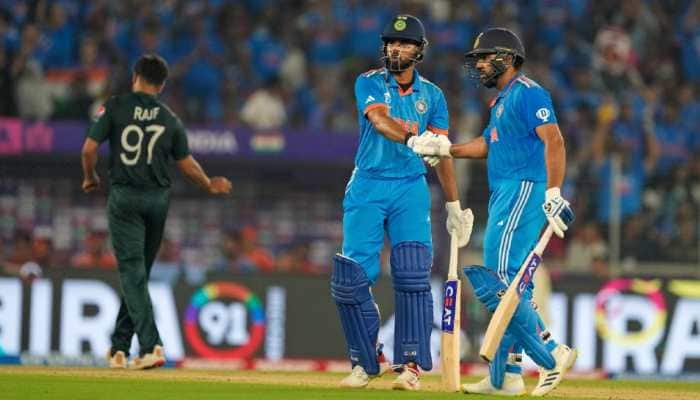 Team India defeated Pakistan by seven wickets in their last World Cup 2023 match. (Photo: AP)
Former World Cup-winning Australian captain Ricky Ponting believes hosts Team India are the 'team to beat' in the ongoing ICC Cricket World Cup 2023. Rohit Sharma's Team India are currently in the number one position on the Points Table with three wins in three matches.
India has kicked off their ICC World Cup 2023 journey on a high note, marking decisive wins against formidable teams like Australia, Afghanistan, and their long-time rival, Pakistan. With aspirations of securing their third World Cup title, following triumphs in 1983 and 2011, the Men-in-Blue are showing promising momentum.
"I said from the start that I think they're going to be the team to beat. They've got a very talented team. They've got all bases covered with their fast bowling, their spin and their top-order, middle-order batting," Ponting told the ICC.
"They're going to be extremely hard to beat. But we'll see how they hold up under extreme pressure as well," he added.
In a memorable face-off with Pakistan, India clinched a thrilling seven-wicket win, sealing the game with 117 balls remaining in Ahmedabad. Pakistan's innings crumbled from a stable 155/2 to 191 all out, primarily due to losing eight wickets for just 36 runs.
Rohit Sharma's impressive knock of 86 was instrumental in steering India to victory. The bowling attack was equally commendable, with five Indian bowlers claiming two wickets apiece. Jasprit Bumrah and Kuldeep Yadav were pivotal in initiating the downfall, following Mohammed Siraj's vital dismissal of Babar Azam.
"He's very laid back, Rohit. Very laid back with everything he does," Ponting told the ICC while sharing his smart perspectives powered by DP World. "You can even see that by the way that he plays. He's a pretty laconic sort of batsman as well, and that's the way he is both on and off the field.
"We can't sit back and say that the pressure won't get to them at some stage, or it won't affect them, because it will, just with the enormity of the tournament. But he'll take it and cope with it as well as probably anyone," Ponting said about Rohit Sharma.
Rohit has captained India in ODIs since taking the reins from Virat Kohli in both white-ball formats since December 2021. Ponting believes Rohit Sharma is the ideal captain for India in all formats of the game.
"Someone like Virat, who is a bit more heart-on-the-sleeve, and probably listens to the fans and plays up with the fans a little bit more, someone with his personality would probably find it a bit harder," Ponting said.
"But I think Rohit will be fine with it. He's a terrific bloke and has been a great player for a long time, and he's done a great job as leader of India," the Australian captain felt.
India's fourth match of the ICC Cricket World Cup 2023 will be against Bangladesh at the Maharashtra Cricket Association Stadium in Pune on Thursday.