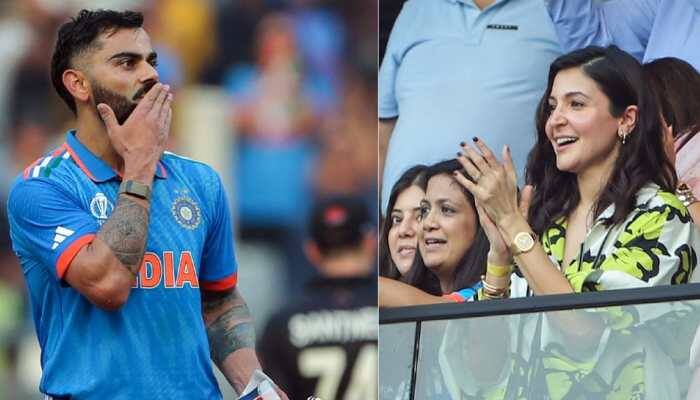 Virat Kohli (left) and Anushka Sharma in Mumbai. (Photo: ANI)
Virat Kohli rewrote the history books on Wednesday as he became the first-ever batter to notch up 50 ODI centuries and starred in India's 70-run win over New Zealand in the ICC Cricket World Cup 2023 first semifinal at the Wankhede Stadium in Mumbai. Kohli's 117 – his third hundred of the World Cup – set up Indian total of 397 for 4 and then Mohammad Shami claimed a career-best 7/57 to restrict the Black Caps to 327.
Bollywood star Anushka Sharma was present at the stadium to support her husband Kohli and cheer him on from the Wankhede Stadium stands. Anushka then wrote an emotional post on social media calling Kohli a 'God's Child' after his record-breaking century.
"God is the best script writer! Utterly grateful to him for blessing me with your love and to watch you grow from strength to strength and achieve all that you have and will, being honest to yourself and to the sport always. You are truly God's child," Anushka Sharma wrote in a viral Instagram post.
After surpassing Indian cricket legend Sachin Tendulkar's record of most ODI hundreds, Kohli said it all 'feels like a dream' to him and he is trying his best to dig deep in the tournament with the role he is provided by his team.
"Well, I'm feeling (pauses). Again, the great man just congratulated me. It feels like a dream. Too good to be true. Big game for us and I played the role so that the guys around me can come and express themselves. As I said, for me the most important thing is to make my team win. I've been given a role this tournament and I'm trying to dig deep. That's the key to consistency – play according to the situation and play for the team," Kohli said during the break between the two innings in the semifinal match.
Following his century, Kohli bowed to Tendulkar, who was in the stands as well. After a string of low scores in 2011, 2015 and 2019 ODI World Cup knockout games, it was this historic knock that ended India's wait for a Kohli special in 50-over WC knockouts. Kohli celebrated this historic moment with a jump, despite battling cramps.
"It's the stuff of dreams. Sachin paaji was there in the stands. It's very difficult for me to express it. My life partner (Anushka Sharma), my hero – he's sitting there. And all these fans at the Wankhede. To get to 400 is amazing; a lot of credit needs to go to Shreyas. KL finished it with a flurry (of boundaries)," Kohli said.