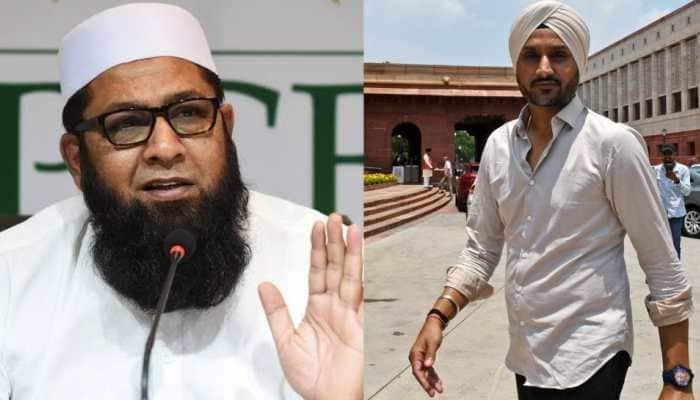 Inzamam-ul-Haq and Harbhajan Singh. (Photo: ANI, Source: X)
Former India off-spinner Harbhajan Singh lost his cool at former Pakistan skipper Inzamam-ul-Haq and blasted the ex chief-selector of the Pakistan Cricket Board (PCB) on social media on Wednesday. Inzamam claimed in a viral video that Harbhajan was apparent close to converting his religion from Sikhism to Islam.
Harbhajan Singh then took to social media and blasted Inzamam for his ridiculous claims. "Yeh kon sa nasha pee kar baat kar raha hai ? I am a proud Indian and proud Sikh..yeh Bakwaas log kuch bi bakte hai," Harbhajan wrote on social media platform 'X'.
Yeh kon sa nasha pee kar baat kar raha hai ? I am a proud Indian and proud Sikh..yeh Bakwaas log kuch bi bakte hai _____ https://t.co/eo6LN5SmWk
— Harbhajan Turbanator (@harbhajan_singh) November 14, 2023
In a viral video, Inzamam-ul-Haq revealed how Harbhajan Singh was close to converting to Islam after meeting Maulana Tariq Jameel, who used to come over and read Namaz with the Pakistan cricket team.
In a subsequent video that also went viral on social media, the former Pakistan captain and the ex-Chief Selector of the Pakistan team, Inzamam further went on to claim that he and his fellow teammate Saqlain Mushtaq tried to covert foreigners and English players to Islam for a club in which they played. Inzy also claimed in one of the videos that they had approached West Indies legend Brian Lara about changing his religion to Islam as well.
That time when Mohammad Yousuf, who himself converted to Islam from Christianity, tried to convert Brian Lara to Islam during a test match in Karachi.
Inzamam ul Haq himself spoke about it during a speech. pic.twitter.com/tAttHyZgun
— Sensei Kraken Zero (@YearOfTheKraken) November 14, 2023
Recently, prior to Pakistan's exit from the World Cup, Inzamam resigned from his post of Chief Selector of the Pakistan cricket team after allegations were raised on him for conflict of interest. Inzamam-ul-Haq is also facing scrutiny due to allegations of his shareholding in 'Yazo International Limited', a company associated with player agent Talha Rehmani.
This revelation has sparked concerns about potential conflicts of interest, particularly as Rehmani represents several prominent Pakistani cricketers, including Babar Azam, Mohammad Rizwan, and Shaheen Shah Afridi. Additionally, questions have been raised about whether Inzamam's dual roles as Chief Selector and shareholder in a company representing top cricketers might influence player selection decisions. Notably, this controversy unfolds against the backdrop of significant disagreements between the Pakistan Cricket Board (PCB) and players concerning central contracts.
Inzamam told PCB, "I am stepping down from the post to offer the PCB the opportunity to conduct a transparent inquiry about the conflict of interest allegations raised in the media. If the committee finds me not guilty, I will resume my role as the chief selector."