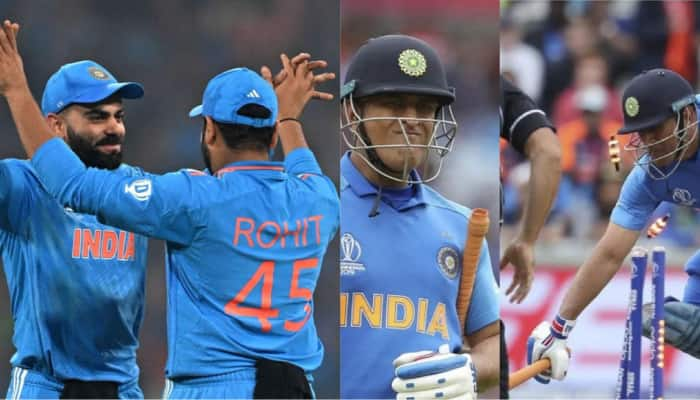 India lost the 2019 semifinal against New Zealand. (Source: Twitter)
New Zealand have qualified for the semifinals of the ongoing Cricket World Cup 2023 and it will be a repeat of 2019 edition of the tournament as they will face Team India. Pakistan are down and out of the tournament. Now, the focus shifts on the mega clash of the Men in Blue led by Rohit Sharma against Kane Williamson's Kiwis team who surpassed the Pakistan team on Net Run Rate (NRR).
What Happened In 2019?
For the second time in a row, India will play New Zealand in the ODI World Cup semi-finals. Four years prior, the Kiwis prevailed in a rain-soaked contest in Manchester, while India lost by 21 runs over two days. India won the current edition clash last month, winning by 4 wickets against a New Zealand team without Williamson in the group stage. The Kiwis will surely be a serious threat to India's aspirations of making it to their first World Cup final since they won the trophy in Mumbai in 2011, especially with their skipper back in the starting lineup. (WATCH: Angry Babar Azam Blasts Shaheen Afridi For Dropping Catch During England Vs Pakistan Game In Cricket World Cup 2023)
Fans demanded revenge as no one can clear the image of MS Dhoni getting run out in his last World Cup and losing the semifinal against Williamson and co. (Cricket World Cup 2023: 'Stones Will Be Thrown At Him,' Angelo Mathews' Brother Issues Warning For Shakib Al Hasan Following Timed Out Controversy)
Checkout the reactions here:
No, we are ready to take the revenge of World Cup 2019 and World Test Championship
— Praneet Samaiya (@praneetsamaiya) November 10, 2023
As Pakistan could not chase 300 + Runs in 6 overs they are out of the World Cup, so it's New Zealand vs India. We know what happened in 2019 against them, This is time to give it back Real Revenge pic.twitter.com/2oIgTxMhG5
— Useer45 (@140of113) November 11, 2023
Ahead of India's last league game against the Netherlands in the 45th match of the ODI World Cup 2023 in Bengaluru on Sunday, head coach Rahul Dravid showered praise on Rohit Sharma and said that he has been a leader.
Speaking at the pre-match press conference, Dravid said that the 'Men in Blue' skipper led by example both on and off the field. (Team India's Spirited Footvolley Session Adds Zest Preparations – Watch)
"Rohit has certainly been a leader, you know, without a doubt. I think he's led by example both on and off the field. Some of the starts that he's given us, the way he's cracked open games for us. A lot of times people have looked at one, I mean, I can't go into the specific games, I'm sure that you will be able to look into it, but there have been some games where it could have been tricky for us, but the fact that he's been able to get us to those kinds of starts has literally cracked open the game," Dravid said.
When asked about the team's preparation for the semis, Dravid said that they have been doing that really well for which they could maintain some really high standards in the tournament.
He further praised the whole squad and said that the team had done really well in the tournament and represented India fantastically. (Haris Rauf Breaks Record For Conceding Most Runs In History Of Cricket World Cup, Check Full List – In Pics)
"I think just taking the box off, I think what we've been doing really well, which is I think we've maintained some really high standards. In terms of our execution, our intensity and I think it's just continuing on that. On that journey so. I think when we started off and I think I answered this question, I think it was your question only in Chennai, that we'd be playing in nine cities and nine venues. And I think we've travelled the length and breadth of this country and played in eight venues. And this is our ninth venue. And I think what this team has done really well is it has really represented India fantastically. It's played a really good brand of cricket. And we've done that in eight venues. And this is a really great venue. Even if I say so. I certainly think it is. As do a lot of other people," he added.
Talking about the Netherlands, Dravid said that they have been very impressive in the tournament. He added that the effort that the Dutch side went through to be able to qualify for the semis was really appreciatable.
He further added that the performances of teams like the Netherlands certainly go a long way in boosting the morale of a lot of the other associate nations that they can certainly compete.
"Yeah, very impressive. I think we're very impressed with the way they have played in this tournament. The effort that they've gone through to be able to qualify. I have some, I wouldn't say first-hand experience, but I certainly know how difficult it is for associate teams to be able to reach this level and play. But certainly, I think the performances of teams like the Netherlands certainly go a long way in boosting the morale of a lot of the other associate nations that they can certainly compete and that they've got some very good players. And it's quite inspiring to see that in spite of the challenges that they do face, they're able to compete at this level to play at this level," he added.
When asked about giving a chance to the players who haven't played much in the tournament or playing the same 11, Dravid said that the squad is in good shape after having six days off from the last game.
"I mean, honestly, we've had six days off from the last game. So, we're pretty well rested and the guys are in good shape. That's all I'll say without giving away the level. So, we've had six days off, we've got one game before the semi-final. The boys are rested. So that's all I'll say," Dravid concluded. (With ANI inputs)