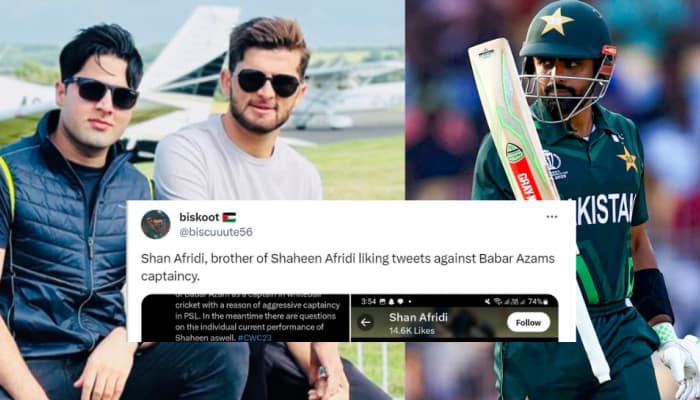 Shaheen Afridi and Babar Azam. (Source:X/ANI)
Pakistan cricket is in shambles right now. After three consecutive losses in the Cricket World Cup 2023, Babar Azam and Co are being criticised day in and day out back home. From former greats like Wasim Akram, Ramiz Raja to fans in the Pakistan, everyone has an opinion on cricket, and most of it is not music to the ears of the squad present in India. 
The criticism is valid too. Babar Azam has been unimpressive as captain. The team has not clicked in any department so far, getting outplayed in back-to-back matches vs India, Australia and then Afghanistan. Losing to a lower-ranked team like Afghanistan has not only dented their semi-finals chances but also hurt their egos.
Also Read | Glenn Maxwell To Aiden Markram: Top 5 FASTEST Tons In World Cup History
If that was not enough, reports of an alleged rift between players emerged ahead of the Afghanistan match. Pakistan Cricket Board (PCB) released a statement to quash the 'rumours' But on the field, some fans spotted 'groupings' and 'Babar being sidelined' by some other seniors. While all of that could possibly be (or not) social media talks amid the frustrated fans who are looking reasons to play the blame game, Shaheen Shah Afridi's brother's recent X activity has added all the more spice to the whole discussion.
Over the social media website Shan Afridi was caught by the Pakistani fans 'liking' the tweets which were against Babar Azam or criticised his captaincy. After poor show in Asia Cup 2023 and so far in World Cup, the talks are on in Pakistan that Shaheen should be the next Pakistan captain, replacing Babar. Even in the past rumours of rifts between Shaheen and Babar have come out. But how true are they, no one know. 
However, Shan's recent activity puts light on the alleged 'rift'. Some X users from Pakistan posted Screenshots of Shan liking the anti-Babat posts on X. On checking again, one cannot see the likes now. So, Shan has either disliked all such controversial posts or he never did them. 
Check out how fans roasted Shaheen and Shan Afridi after the controversy erupted:
Isy behtr to mera puppy hai loyal to hai mere sath bhai_ #ShaheenAfridi #ShanAfridi https://t.co/NzVxDJufy9— ___7/56______ (@Nayab295) October 25, 2023
Shahid afridi outside shan's house tonight pic.twitter.com/rAxCgrBgDC— ~ (@Wazirasfan) October 25, 2023
Shan Afridi might have done that because he was mad that we lost to AFG, like many of our PCT fans were that day. Eventually, time will prove everything, but as a Babar Azam fan, I dont want him to be captain anymore.
"You won't realize how good Babar Azam is until he is gone." https://t.co/OhW5q7KdEW— H_ (@goatedhumz) October 25, 2023
— Ahmed Raza (@arzanalirizvi) October 25, 2023
Yar kyaa ptaa Shan Afridi sahab ny glti sy tweets like kiye hun pic.twitter.com/em4w8Yosfo— Sidra56 PCTfan______ (@SidBA56lover) October 25, 2023
After losing 3 matches out of 5, Pakistan have four more games remaining in the World Cup 2023. But the road is tough ahead. The matches are against South Africa, England, New Zealand and Bangladesh. South Africa and New Zealand, in particular, are in red hot form at the moment and it will take some doing to beat the Proteas Men in this World Cup, especially with Quinton de Kock, Heinrich Klaasen in the form of their life.